Sustainable Recycling Solutions From Weidmann
Weidmann
Maplex board provides a sustainable solution for recycling collection boxes
Weidmann CSM has been supporting several initiatives within Fashion & Retail industry as it takes decisive steps towards implementing principles of circular economy and reaching its environmental goals.  One of such initiatives is a development of in-store recycling collection boxes.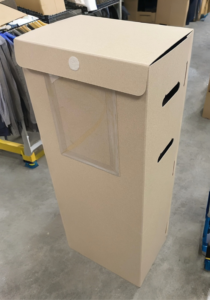 Weidmann CSM's Engineering and Fabrication experts have been working with Global Concept based in France to develop a collapsible, foldable and re-usable box made from Maplex pressboard for in-store recycling collection points for the global beauty retailer.
Since Maplex is perfect for punching and forming, even into surprisingly complex and strong three-dimensional shapes, this box provides a unique alternative to plastic bins and traditional corrugated board boxes. It can be re-used multiple times, stores, and ships flat, reduces or fully eliminates the use of bulky plastic containers, and can be upcycled or recycled.
Global Concept found Maplex an easy material to work with and together with its customers is currently exploring more extensive use of Maplex thus constantly improving their sustainability practices through better material choices.
Maplex is manufactured without added substances, is a VOC free and 100% biodegradable material which makes it the perfect substrate. Watch the video to find out more about this incredibly versatile product.
We are proud to collaborate with our partners delivering more sustainable solutions for the retail industry in recyclable waste collection and, more recently, developing new product display options.
Weidmann CSM puts the principles of the circular economy at the heart of its production process by carefully selecting natural resources from sustainably managed forests, producing long lasting, natural, VOC free unbleached cellulose fiber materials and reintegrating the green and non-hazardous waste back into our production process.
If you're interested in learning more, please don't hesitate to contact us.